By Train
When using the Hankyu and Randen Lines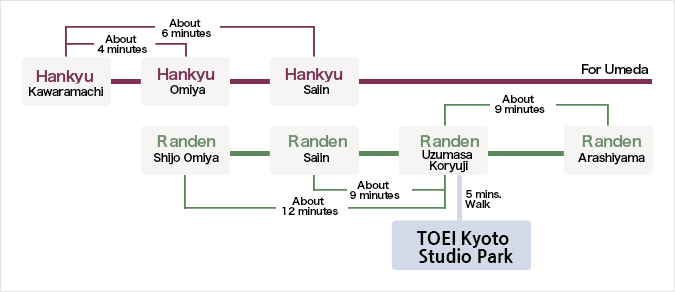 When using the When using the JR Line and Subway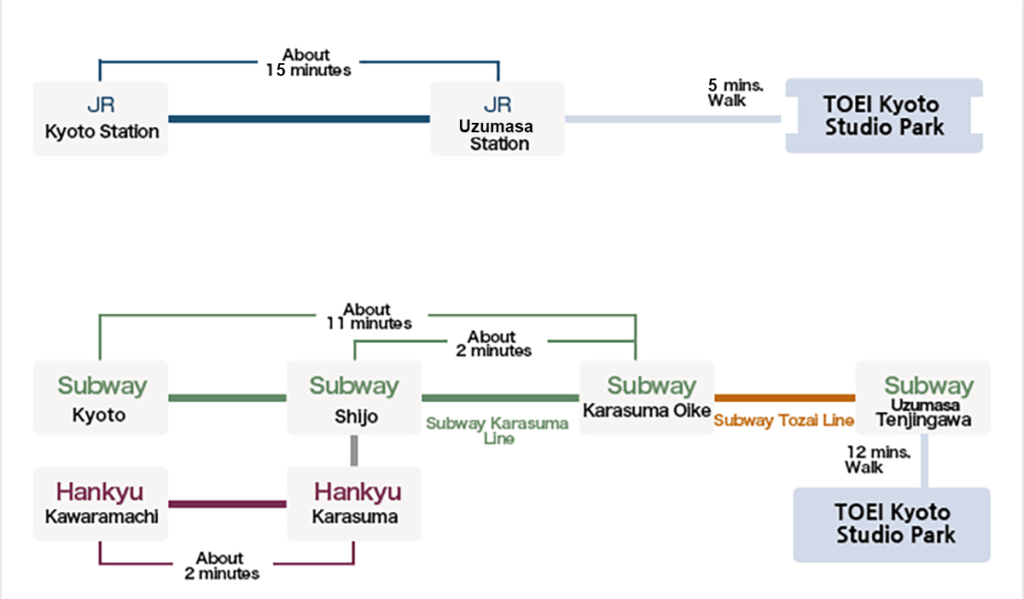 By Bus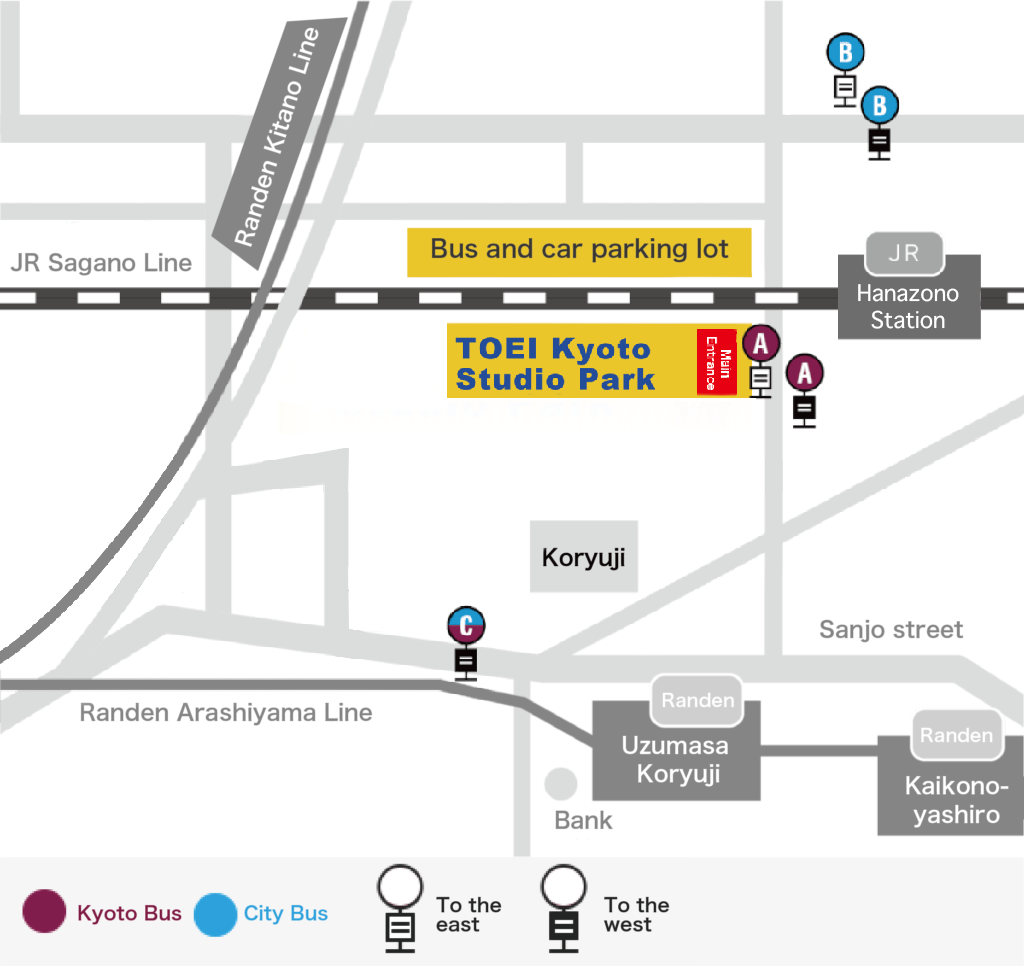 Uzumasa Eigamura-mae
#62 #63 #66 #67 From Arashiyama #65 From Arisugawa
Uzumasa Eigamura-mae
#62 #63 #65 #66 From Shijo Keihan

Uzumasa Eigamura-michi
#75 From Yamagoe
#91 From Daikakuji
#93 From Arashiyama

Uzumasa Eigamura-michi
#75 From Kyoto Station
#91 From Shijo Karasuma
#93 From Karasuma Marutamachi
Uzumasa Koryuji-mae
#11 From Sanjo Keihan (City Bus)
#72 #73 #75 #76 #83 #86 From Kyoto Station
When using the City Bus(From the east)
Route 11
(Sanjo Keihan Mae) (Shijo Keihan Mae) (Shijo Kawaramachi) (Shijo Omiya) (Nishioji Shijo) (Uzumasa Tenjingawa Eki Mae)
Route 75
(Kyoto Eki Mae) (Horikawa Gojo) (Nishioji Shijo) (Uzumasa Tenjingawa Eki Mae)
Route 91
(Shijo Karasuma) (Shijo Omiya) (Nishioji Shijo) (Nishinokyo Enmachi)ting. Please note that it is real-time shooting.
Route 93
(Kinrin Shako Mae) (Marutamachi Keihan Mae) (Karasuma Marutamachi) (Nishinokyo Enmachi)
When using the Kyoto Bus(From the east)
Routes 62・63・65・66・67
(Shijo Keihan Mae) (Sanjo Keihan Mae) (Karasuma Oike) (Nijo Eki Mae) (Nishinokyo Enmachi) (Hanazono Eki Mae)
Routes 72・73・75・76
(Kyoto Eki Mae) (Shijo Karasuma) (Shijo Omiya) (Nishioji Shijo) (Uzumasa Tenjingawa Eki Mae)
Routes 83・86
(Kyoto Eki Mae) (Karasuma Gojo) (Nishioji Gojo) (Uzumasa Tenjingawa Eki Mae)
When using the Bus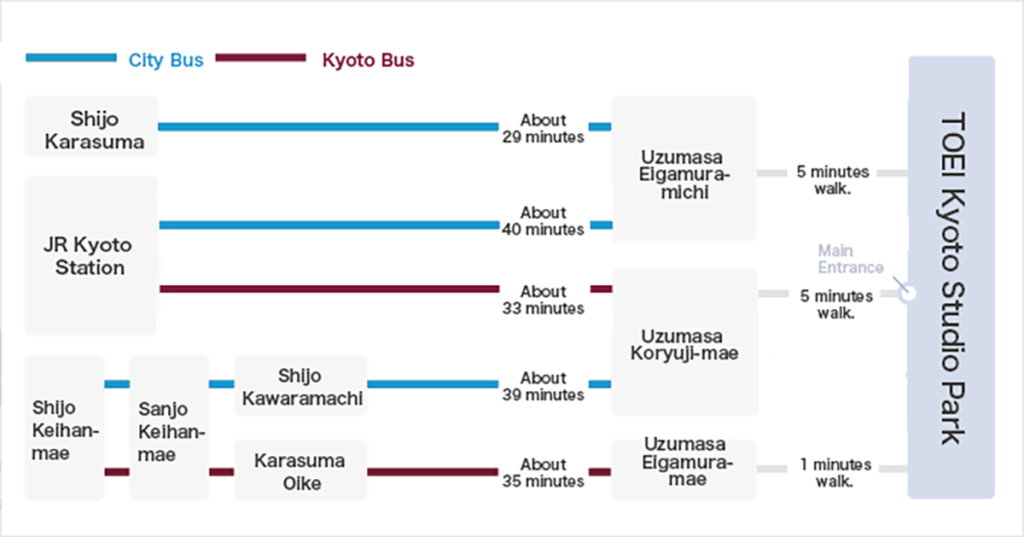 By Car
【For customers coming by car】
Please do not park in the surrounding commercial facilities or residential areas as it will cause an inconvenience. In addition, please do not park along the side of the road as it will block traffic and cause danger.
Parking Hours
A 24-hour bus parking lot has opened! From April 1st, 2019
Available hours are based on the business hours of the Studio Park.
Please make a reservation in advance when visiting the Studio Park with a motorcoach or microbus.
There are a few parking spaces for wheelchairs, so please contact the parking staff to see if they are available.
The surrounding roads and parking lots will be crowded during Golden Week and the Obon period. Please use public transportation when visiting the Studio Park.
The bus parking lot is in the the NPC parking lot reservation site.
Reservations are limited to the bus parking lot.