How would you like to wear authentic costumes and experience
sword fighting against the backdrop of Edo town?

The instructors are TOEI Studio actors trained
in sword fighting in the adjacent movie studio.

They will teach you real techniques
developed in movies and series.

Enjoy an experience unique to Kyoto TOEI Studio Park.
Authentic costumes at the "Period Piece Costume Hall"!
You can choose among five costumes:
<Young Samurai><Ninja><Sakamoto Ryoma><Shinsengumi(guardsman)><Wakashu(young person)>
*Please note that, depending on the circumstances on that day, we might not be able to rent out the costume you request.
*Please note that the color and pattern of the costume may differ.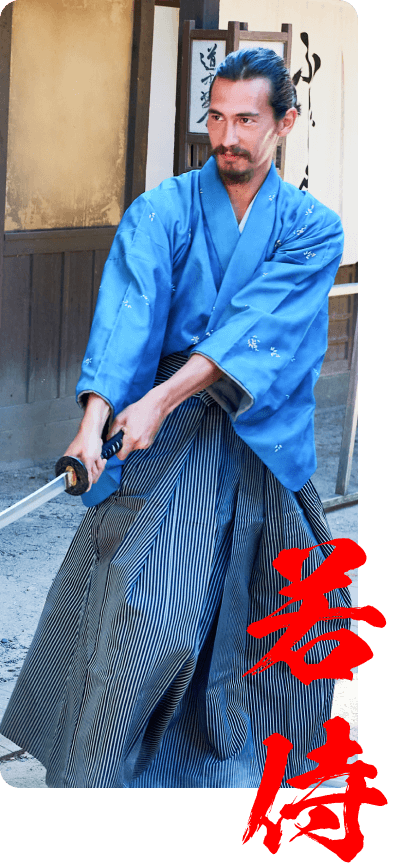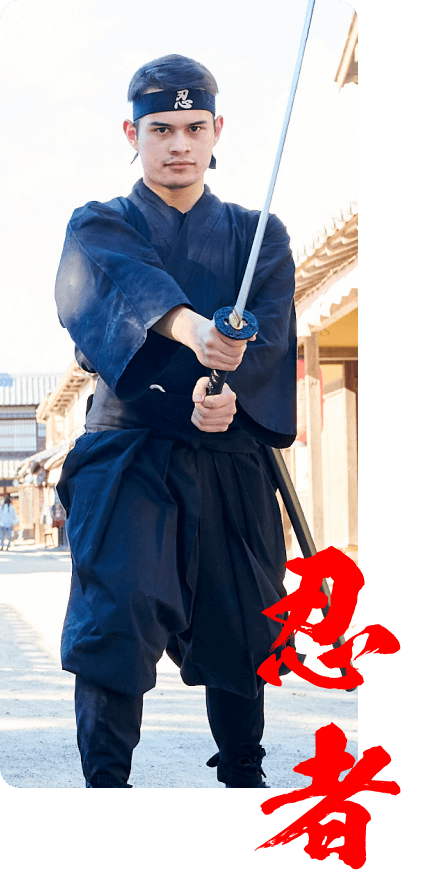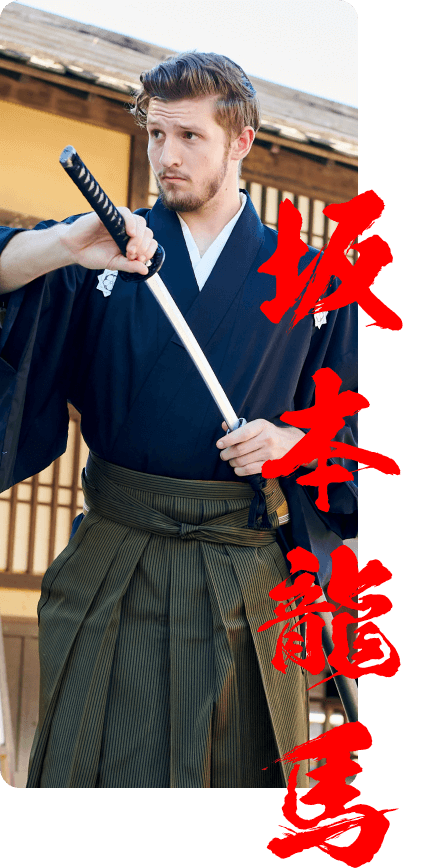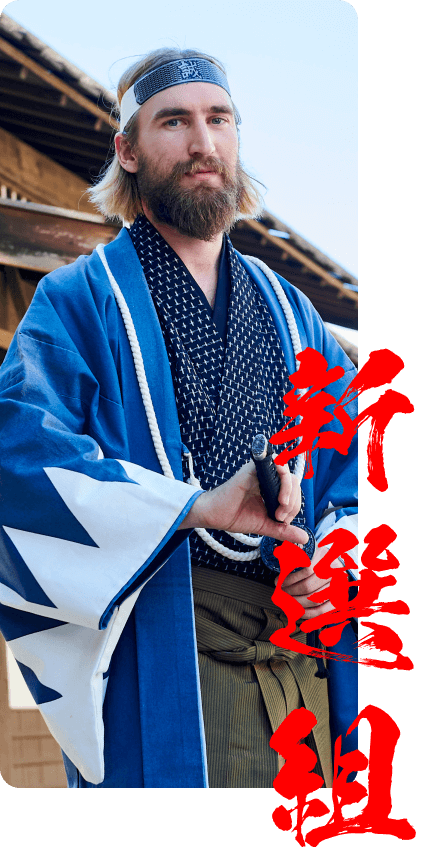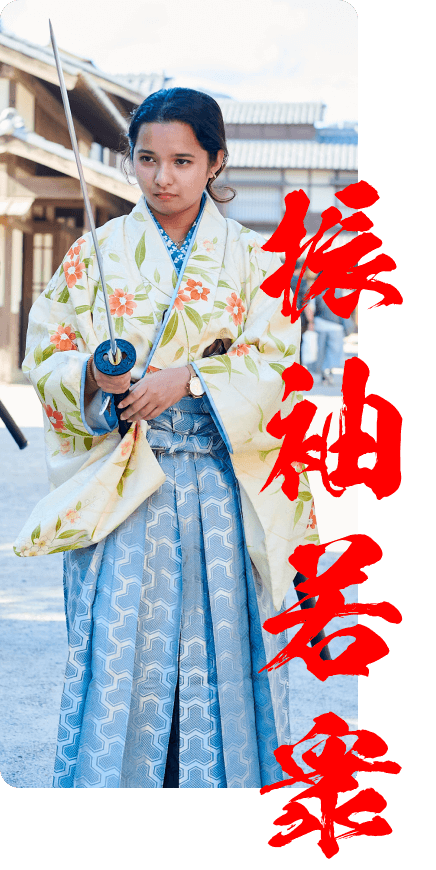 Learn how to use a sword in Edo town!
Starting with bowing,
we will teach you how to draw and sheath your sword, basic stances, and how to swing your sword.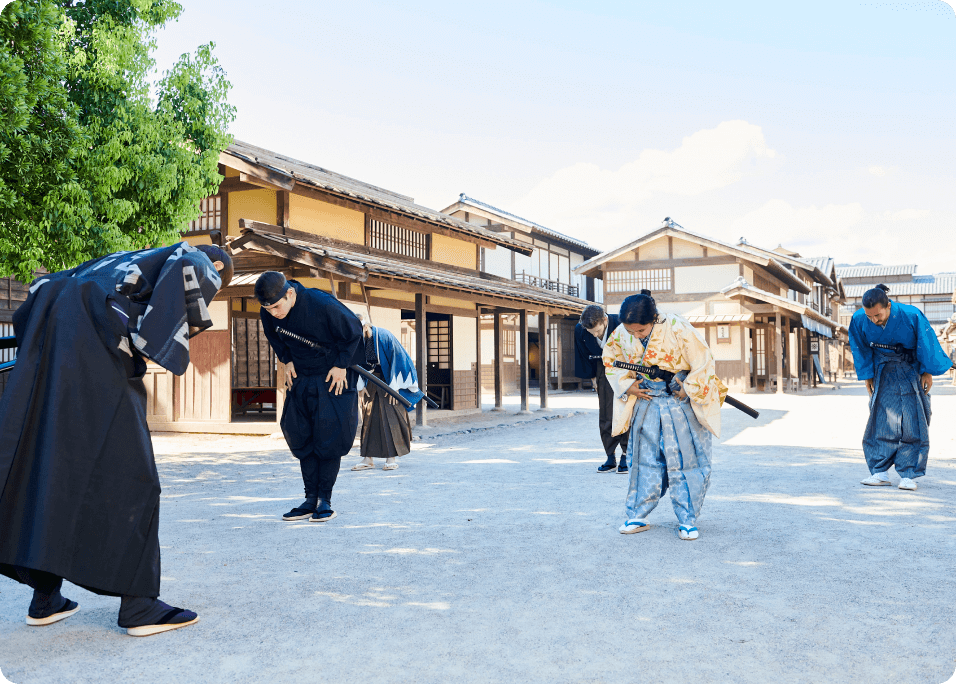 Bow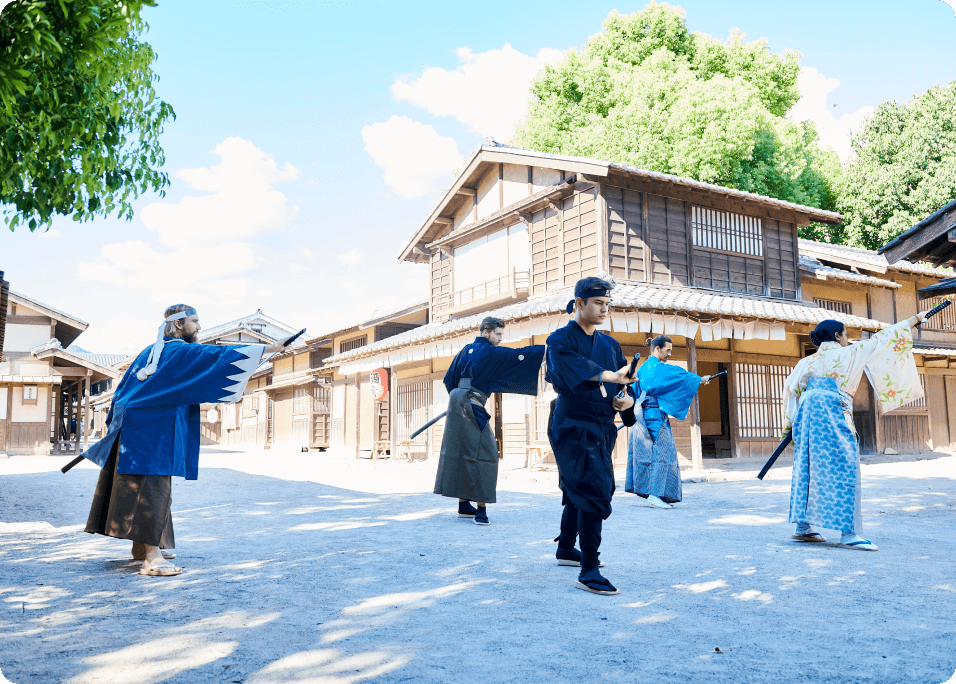 Draw the sword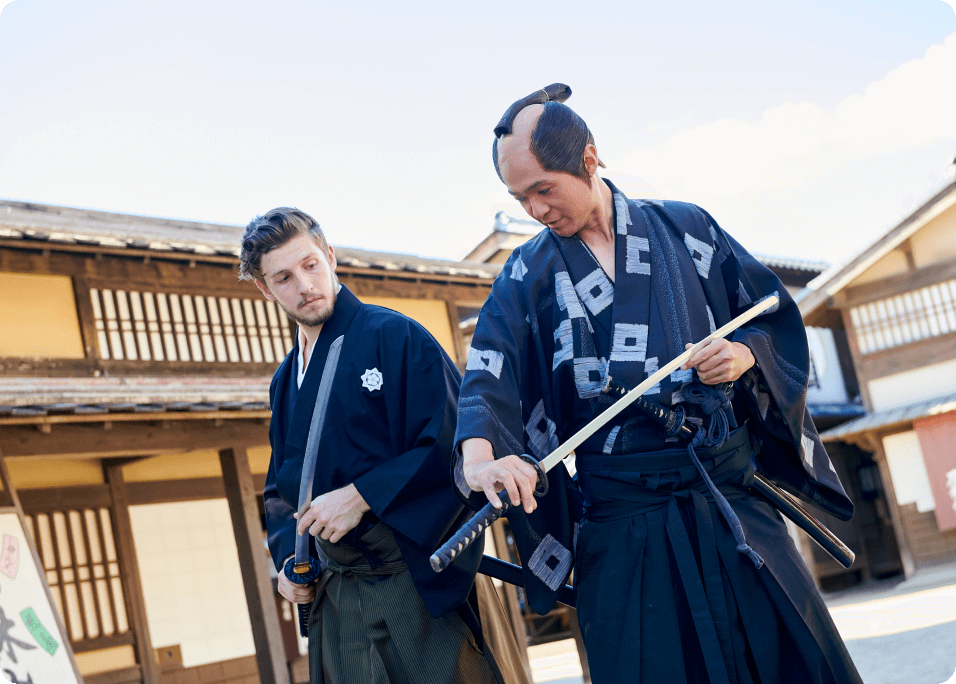 Sheath the sword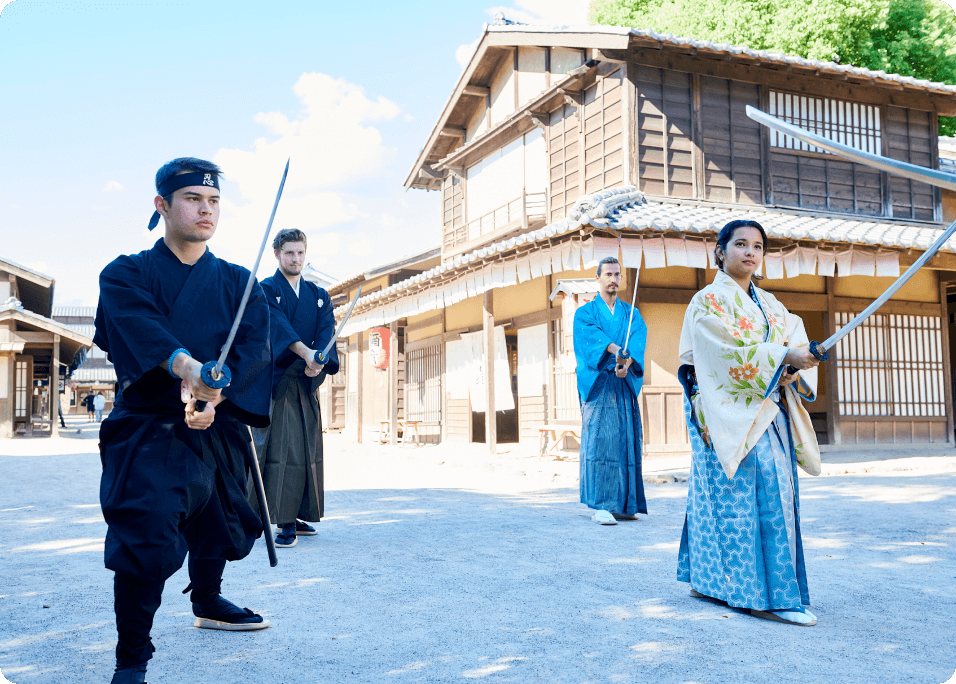 Seigan stance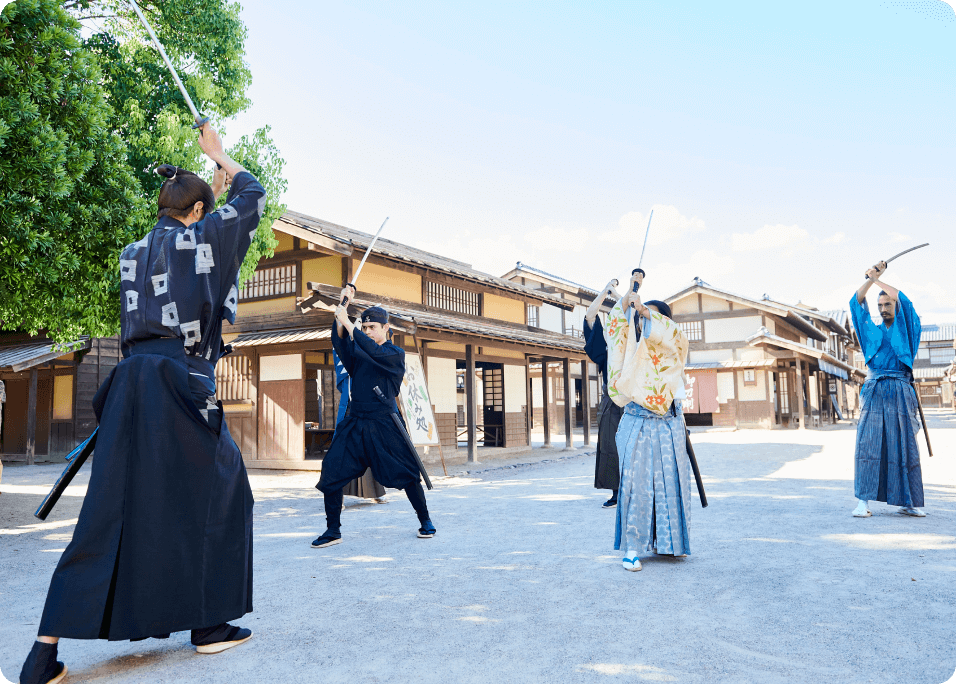 Head-on bamboo strike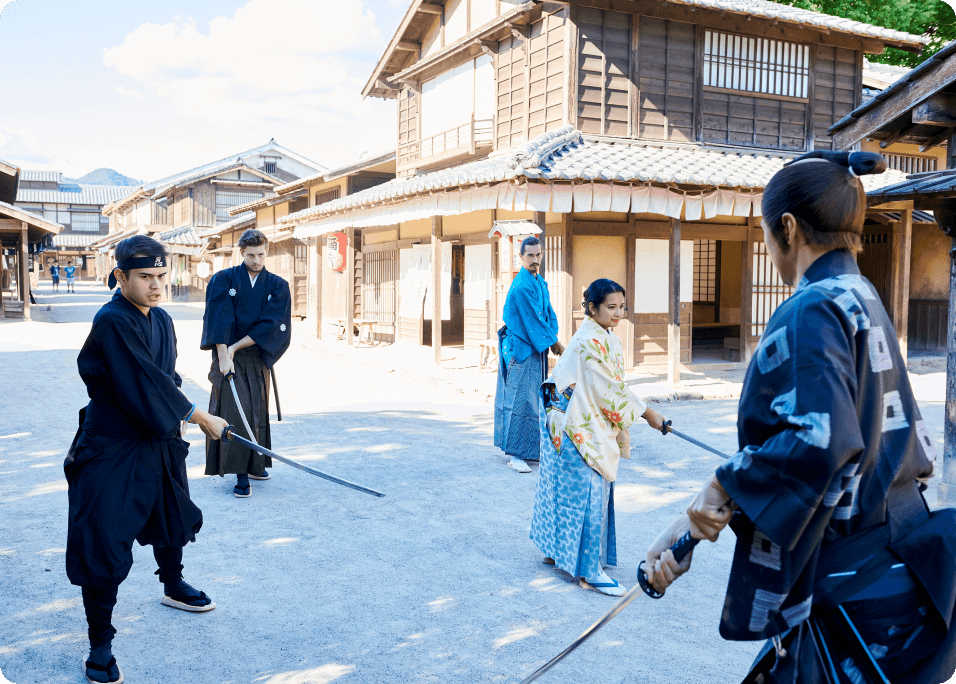 Cut into sword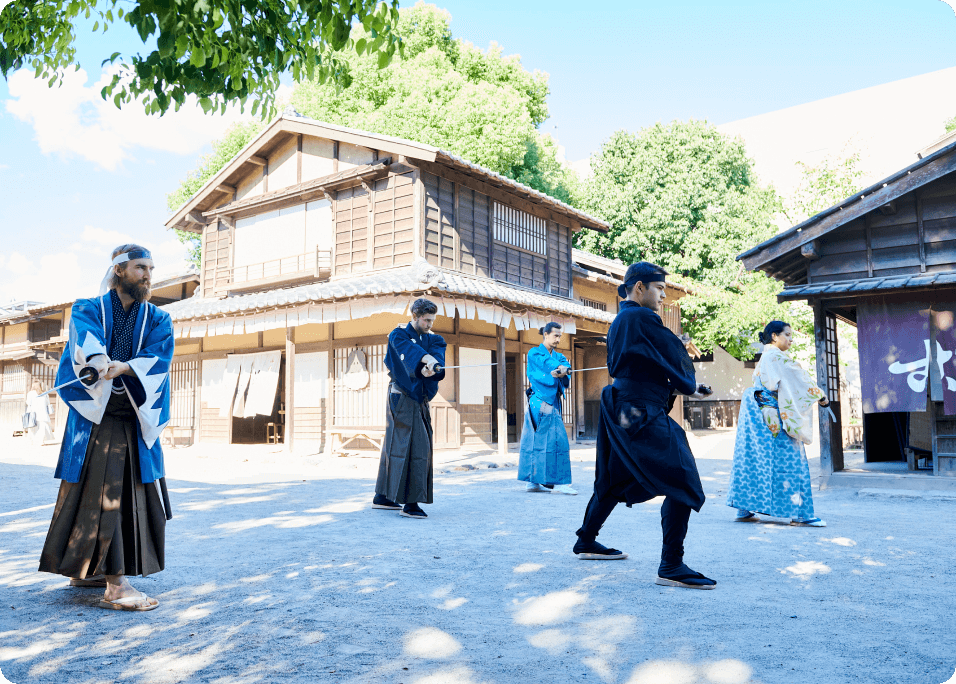 Horizontal cut
Photo shooting while moving around
You can take some cool photos along the way as you head to the sword fighting location.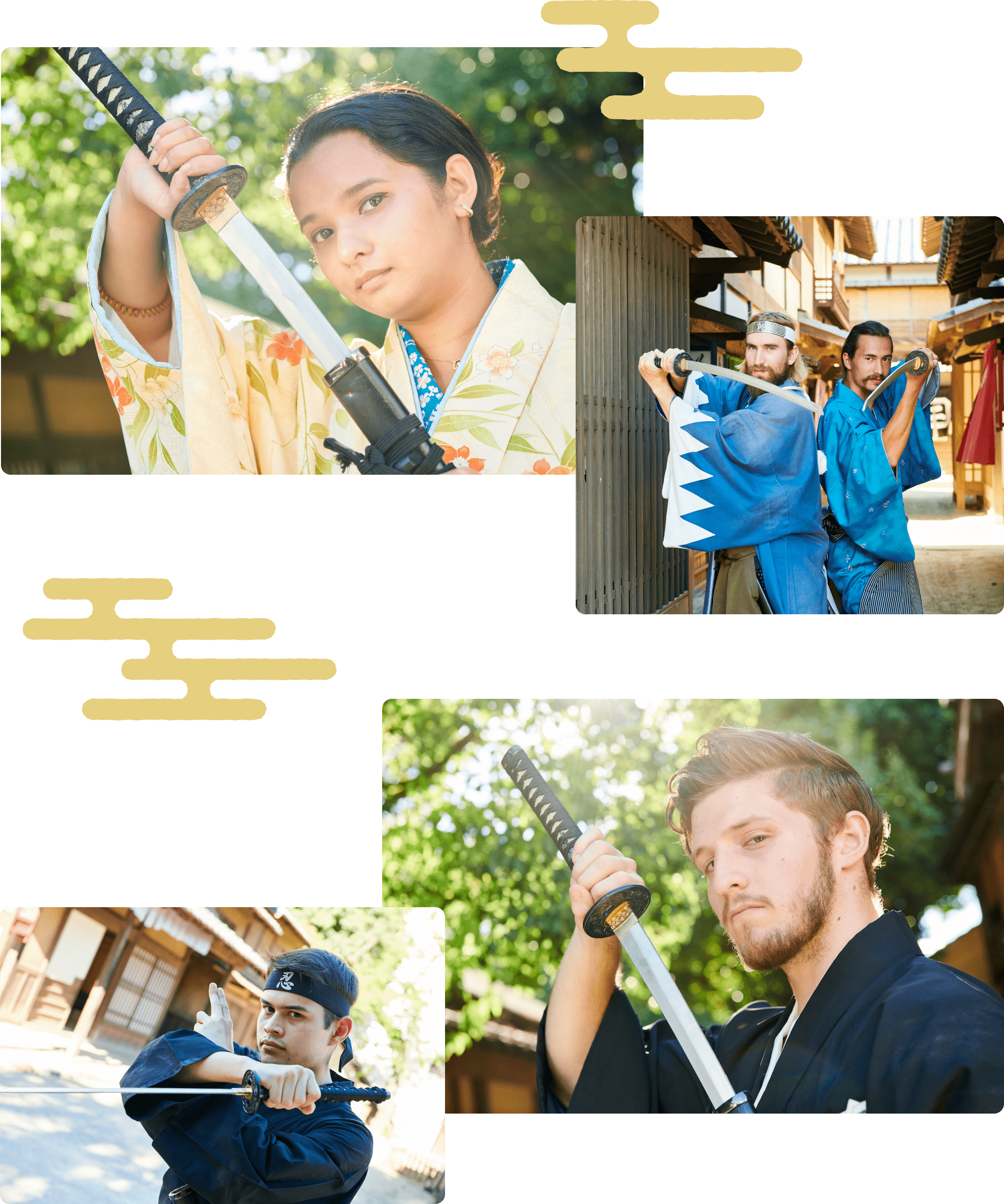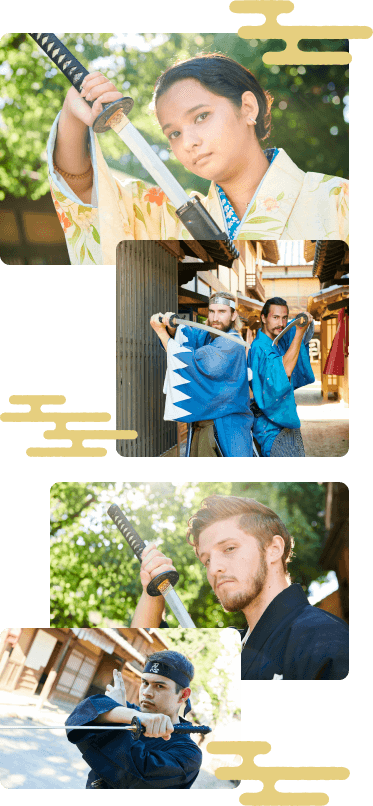 It's time to take on the sword fight challenge!
Students get to try sword fighting in pairs. Prepare your camera!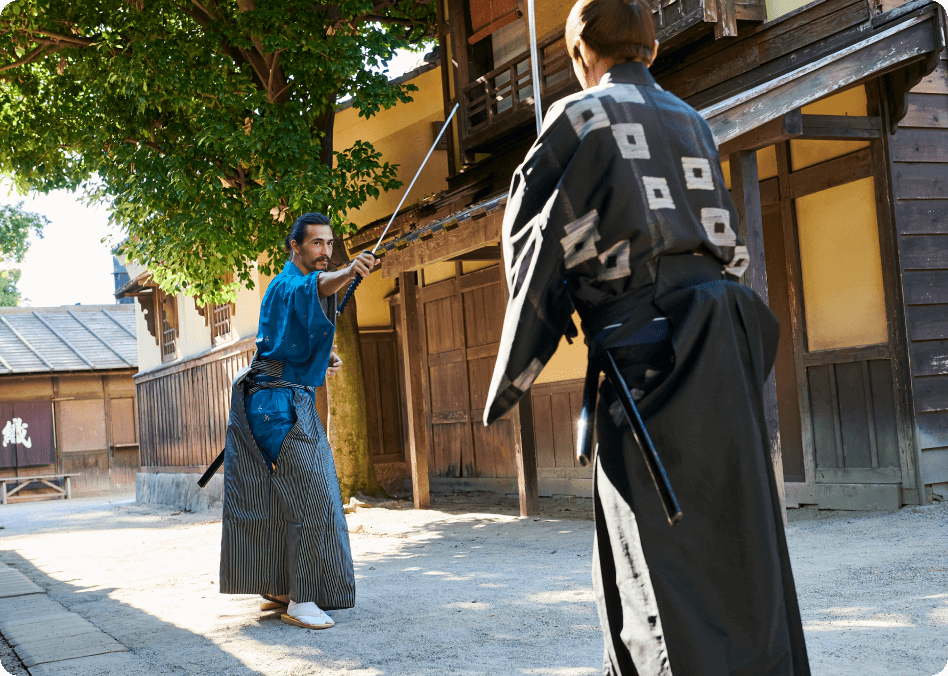 The actors will act their part.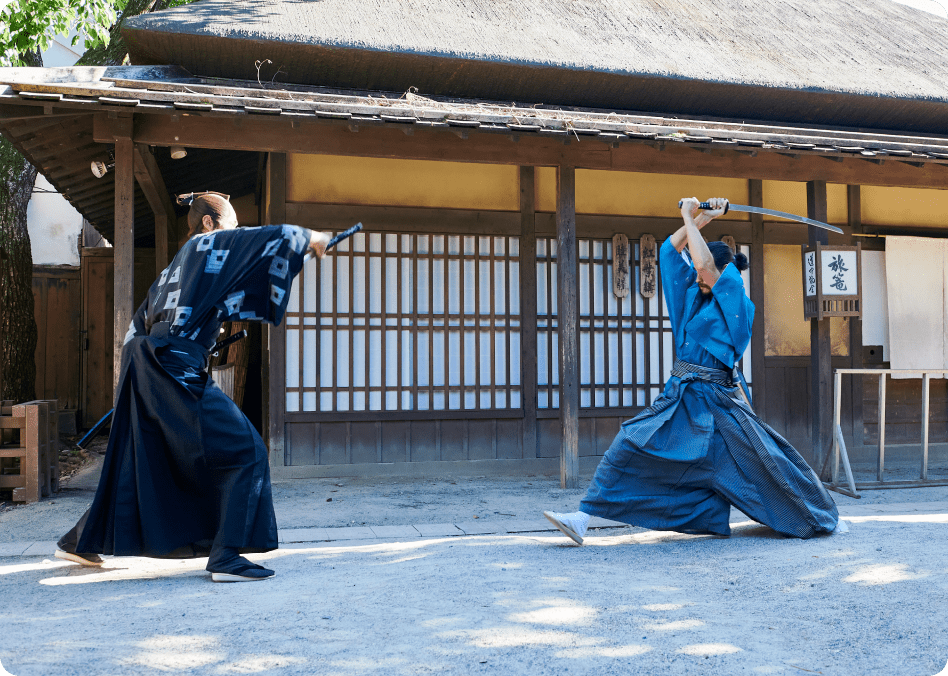 Let's fight!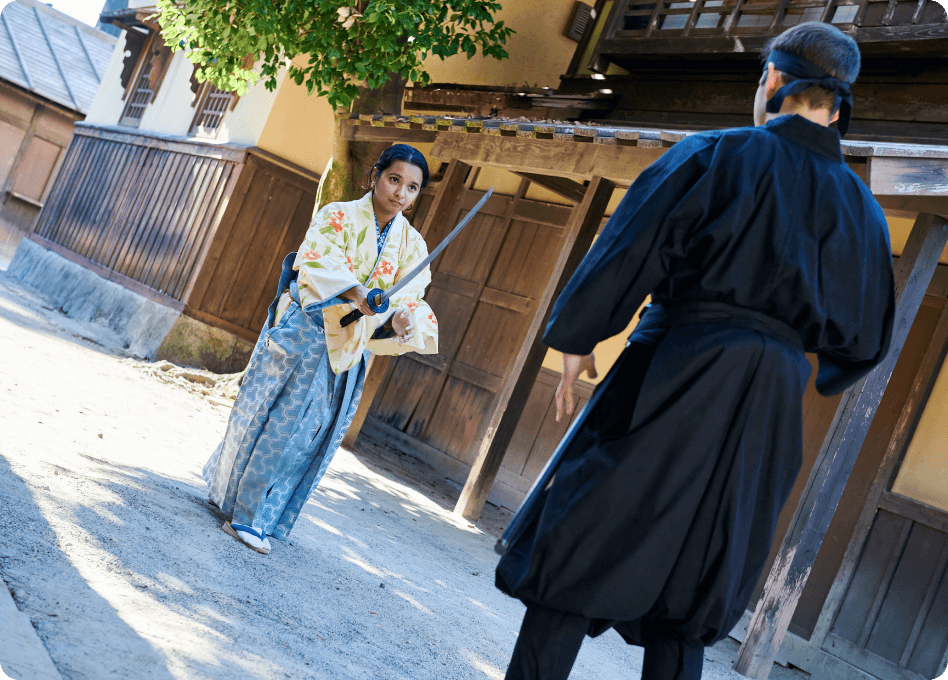 The tension is rising.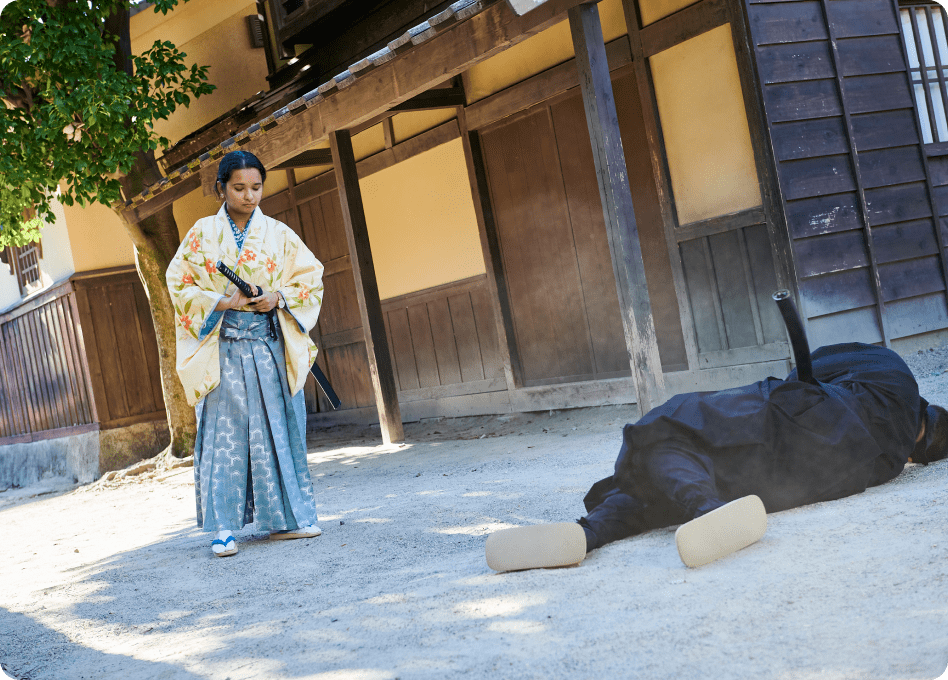 Wonderfully performed! A great photo chance!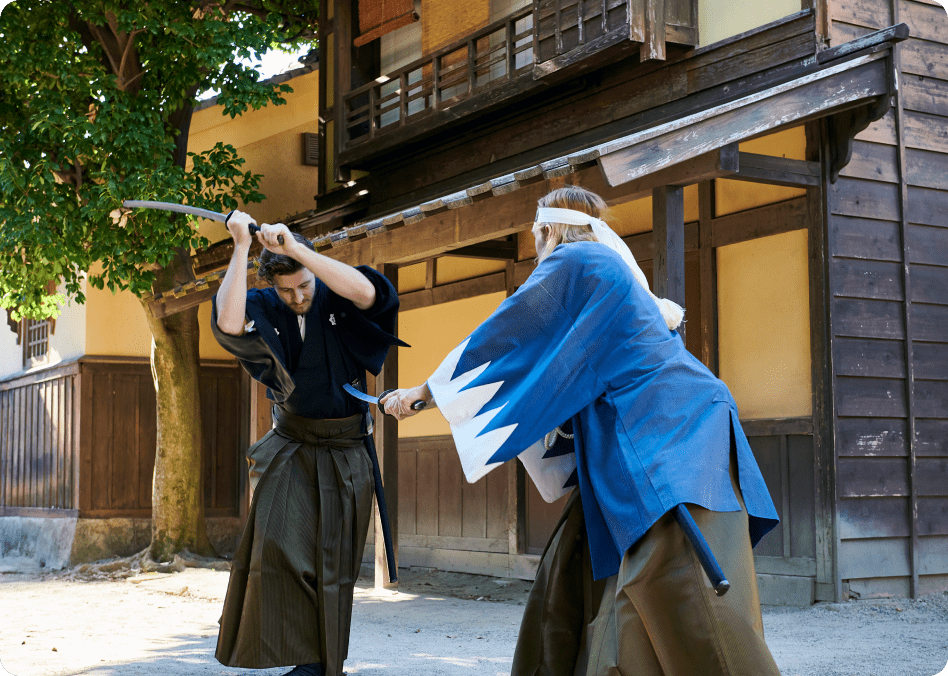 Be careful to avoid injury to yourself and others.

We will guide you in simple English.
Sword Fighting Experience Plan
Transform into a samurai and walk the Edo town with a sword in hand!
This plan offers authentic swordsmanship instruction by actors trained at the Toei Actors School. After learning sword fighting basics, take a stand and test your skills for the real thing! At the end, take a commemorative photo with the actors!

Period Piece Costume Hall → Edo Town Open Set
time:90 minutes
30 minutes to change clothes, 45 minutes for the experience, 15 minutes to change clothes
You can participate wearing any of the following: <Young Samurai><Shinsengumi(guardsman)><Sakamoto Ryoma><Wakashu(young person)><Ninja>.

Please choose your costume in advance so that things go smoothly on the day of the experience. (Please be aware that depending on the situation on the day-of, you may not be able to borrow your costume of choice.)

Review details and reserve tickets at the Aso View link below.
Advanced ticket sales page:
https://www.asoview.com/channel/ticket/t8YfMboVcU/ticket0000022600/
2023/9/16-11/30
①9:00 ②10:00 ③11:00 ④12:00 ⑤13:00 ⑥14:00 ⑦15:00
Please arrive ahead of time on the day of the event. In case you are significantly late, you might not be able to join the experience. (The time can be changed, if there is availability).
Please note that you are not allowed to eat, drink, smoke or walk around the Studio Park while dressed up.
The number of costumes is limited. Please note that they will be distributed on a first-come, first-served basis.
To fit into the costume, children must be over 5 years old and over 110cm tall. Please choose among Shinsengumi, Ryoma, Young Samurai, or Ninja costumes.
Children costumes are available for visitors up to 145cm of height.
If the size of the costume does not fit, you may not be able to dress up. Also, kimonos will be provided according to body size, so we may not be able to accommodate your request for color/pattern.
Wig and makeup can be added for an additional fee. If you have such requests, please let the staff know on the day. Please note that we may decline your request depending on conditions.
Adding make up will extend the time for the costume by approx. 30 mins, so the time for the experience will also change. Bookings for 15:00 cannot add "Make-up" options.
As it is dangerous for customers who have difficulty moving independently, we are unable to provide them the experience.
In case of rain, the experience will be held indoors. Photo shoots will take place with the town of Edo in the background.
There is no interpreter, and a translation device will be used if necessary, but the content can generally be enjoyed without an interpreter.
Please bring your own makeup kit to touch up your makeup after dressing up.
After dressing up, you can have your photo taken by a professional photographer. Separate fees: from 4,000yen
No discounts available for annual pass holders.
Cancellations are accepted up to 2 days before the reservation date. (After that, 100% of the fee will be charged.)