Latest Robot Corporations x Traditional Industry Gather In Kyoto Studio Park! Please enjoy the crossover experiences of the Ninja's past and future!
Welcome to the NINJA Fort 20xx...
Feb 22nd is the Ninja Day! As a celebration, Ninjas will come out from the "shadow" to be under the stage light to show kids their secret Ninja skills during this festival! Please come enjoy the Kyoto Ninja Festival at Toei Kyoto Studio Park!
※We have put in place complete measures against the corona virus so you can enjoy this event safely.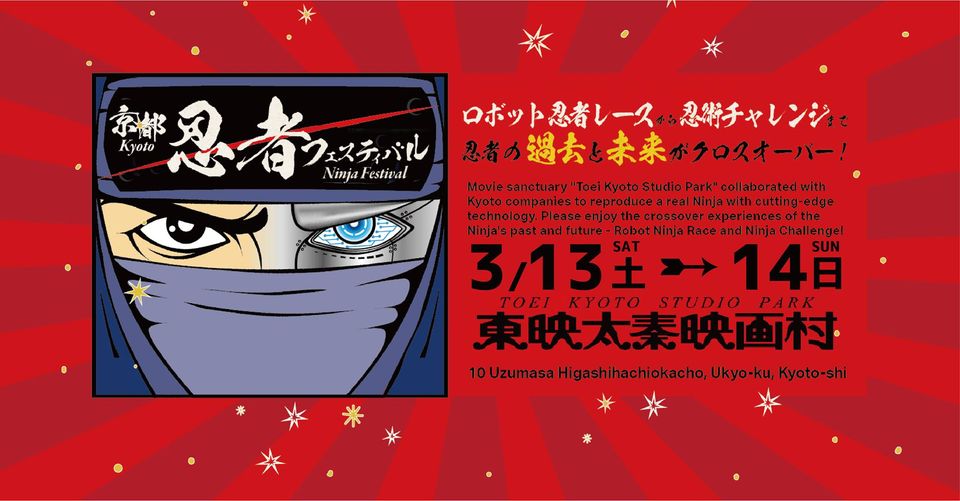 ◎Date:Mar. 13th (Sat) ~ 14th (Sun), 2021

◎Target & Capacity:100 Foreigners living in Japan

◎Participation Fee:Free

◎Application Form
/global/en/kyoto-ninja-festival
※All participants are required to fill up the survey.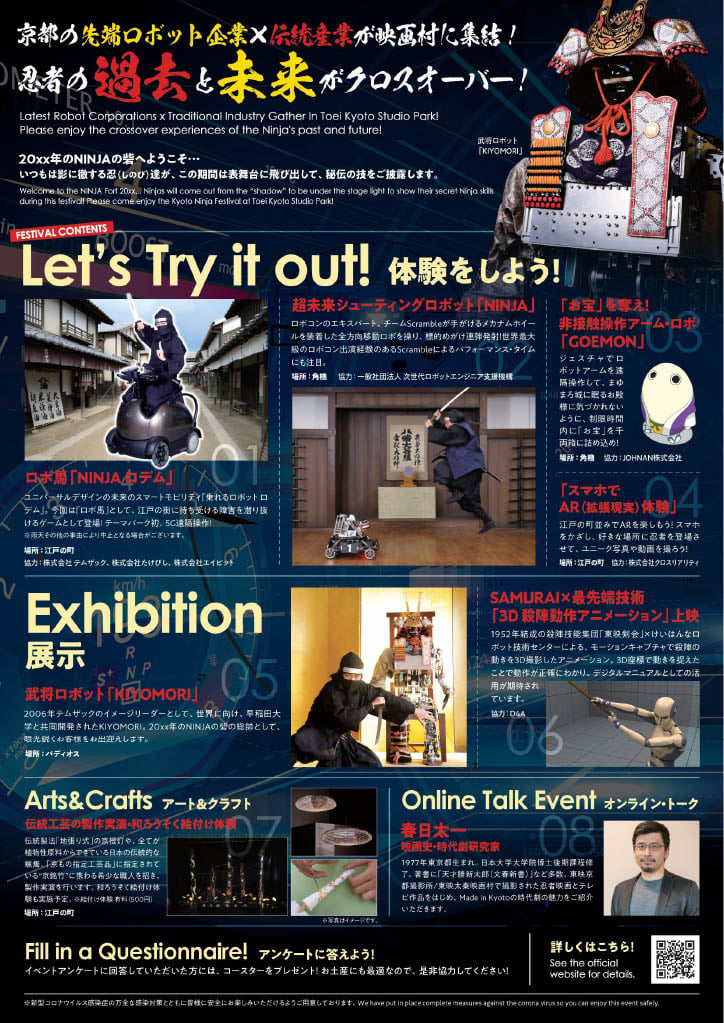 ◎Contents
【EXPERIENCE】
RoboHorse「NINJA Rodem」
It is an absolutely new universal designed smart mobility robot, Rideable robot "Rodem", Rodem can be a vehicle or a wheelchair. This time, Rodem will appear in a "RoboHorse" game, which runs around the Edo Town to solve all the problems in its way! We will be the first theme park to demonstrate the 5G remote control (manipulation).
Super Futuristic RC Shooting Machine 「NINJA」
Aim for the goal by using the directions mobility robot; equipped with mecanum wheels, created by a Robot contest expert team "Scramble", a group of young engineers and students. Battle against Ninjas and shoot at the targets!
Pay close attention at the Scramble's performance, an experienced team of the Biggest New Generation Robot Contest "RoboMaster"!
Snatch Away the Treasure! Non-Contact Manipulatable Arm Robot「GOEMON」
Control the Robot Arms by giving it a gesture command to snatch away the hidden treasure from Mayumaro Castle! Take and put the treasure in the treasure box as much as you can until time is out! Don't let the general see you!
【EXHIBITION】
General Robot "KIYOMORI"
KIYOMORI was developed as an image leader of tmsuk company limited to the world in 2006, in association with Waseda University. It is dressed with Heian style armor, which was designed by Takemaru Industry (Kagoshima), which has been designing NHK Taiga Drama series costumes. KIYOMORI weights 74kg with hight of 160cm, group of actuators is hidden in its body. KIYOMORI will welcome you with its sharp glare as a general of NINJA fort 20xx.
3D Japanese Sword Battle Action Animation
In cooperation with Toei Ken Kai (Toei Sword Team) and Keihanna Robot Technology Center, we recorded 3D Sword Battle with motion capture and create it into an animation. As we captured all actions using 3D coordination, details of all actions can be seen clearly. This technology is expected to be used as a digital manual in the future. Come and check what the collaboration of the latest technology and SAMURAI looks like!
【ART&CRAFT】
Demonstration of Traditional Japanese Crafts making & Drawing on Warousoku experience
We will invite one of the few Japanese candle craftsmen in Japan, who has experienced handling Kyoto Selected Crafts "Kyo Mei Chicku(Kyoto Bamboo)" to show you demonstration of making Demonstration of Traditional Japanese Crafts, such as Kyo Lantern(Kyo Chouchin) using traditional Jibari technique and all plant base Japanese traditional candles(Warousoku).
You can also try drawing on Japanese Candles(Warousoku)!
※Drawing experience is ¥500
Taichi Kasuga's Online Talk Session
(Taichi Kasuga - Researcher/expert/critic of film history & Japanese historical drama)
Born in Tokyo in 1977. Completed Nikon University Graduate School Latter Doctoral Course. He chose his lifework as interviewing film actors. He is well known with his great writing skill and interviewing skill. This time, he will introduce Ninja Films and TV series filmed in Toei Kyoto Studio Park and a magic of Made in Kyoto historical drama.

There are more attractions, exhibitions and souvenirs at our Toei Kyoto Studio Park! Use the Studio Park Stroll Map to make your time more enjoyable, you can check explanations of the open sets and more!