Do you want to have fun outside without being worried, and at the same time make good memories with your friends? Good news for you!!

At Toei Kyoto Studio Park, a marvelous area where both the Edo Period and the Evangelion atmosphere still live together, a new daytime rental plan is about to start!

Freely choose the attractions and shows you like! The Studio Park will entirely be at your service, so tell us what you want to do!
✦ Available dates
[Spring] Monday, Tuesday, Wednesday (from 6/7 to 7/16)
[Winter] Tuesday (from 12/1 to 2/28) *Excluding 12/28, 1/4-11-18
(Reservations required)
✦ Available hours
① 9: 30 - 12: 30
② 13: 30 - 16: 30
(3 hours system)
✦ Plan (limited to 2 groups per day)
Ⓐ Edo Town Course
Enjoy the open set recreating the town of Edo, actually used for filming movies and TV series! Perfect to collect memories of your visit!
Rental fee: 165,000 yen (tax included)
Maximum number of guests: 1,000 (165 yen per person)
Ⓑ Whole Studio Park course
In addition to the town of Edo, the movie village will be fully open, including Evangelion and Kamen Rider sections!
Rental fee: 275,000 yen (tax included)
Maximum number of guests: 2,000 (138 yen per person)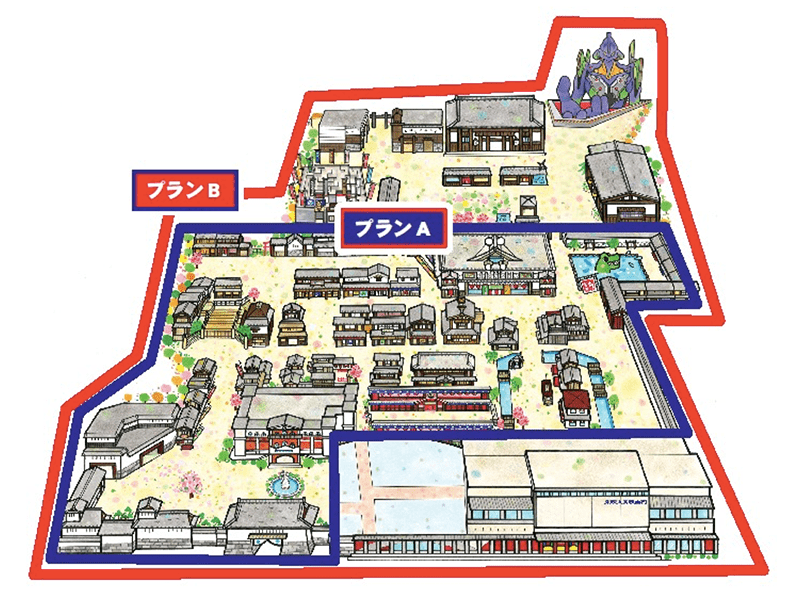 ✦ Options
Event and attractions are optional. Please just order the ones you want.
・Attractions: 55,000 yen (tax included)
[The cost is per attraction written below]
Mystery Solving Maze Maboroshi Fort / Trick Art Museum / Ninja Mystery House / "Laser Mission Escape the Castle" / Ninja Training Dojo Sword N'GO!! /3D Maze The Ninja Fort
・Attraction (haunted house): 66,000 yen (tax included)
・Samurai Hospitality set: 82,500 yen (tax included)
A three-person samurai will join your group. Performing on the shows and being your commemorative picture partners!
・Edo residents: 33,000 yen per person (tax included)
Characters such as Oiran, Ninja, and Town girls will join and show up. Take commemorative pictures together!
・Crash! Ninja Show Sasuke (performance fee) 165,000 yen (tax included)
※ Free cancellation up to 3 days in advance [100% on the day, 50% on the day before and 2 days before. ]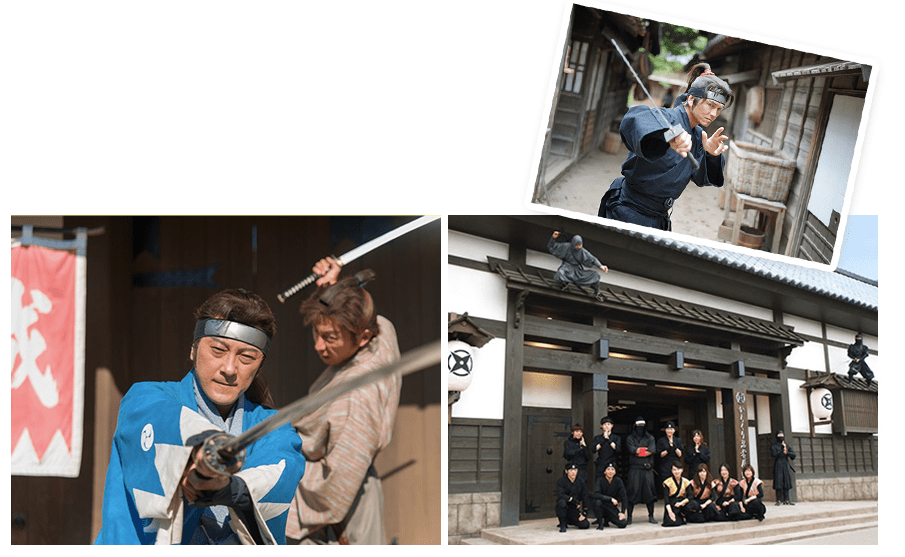 ✦ Rental usage policy
Please cooperate along the infection control measures
・Those with a body temperature of 37.5 ° C or higher will not be admitted.
・It will be necessary to wear a mask at all times in the Studio Park.
・Avoid crowding and be sure to keep the social distance from other people.
・Banquets (drinking) are not allowed.
About drama shooting in the movie village
・If "drama shooting" is being performed in the Studio Park, follow the instructions of the on-site staff. * Depending on the content of the shooting, you may not be able to get close or make sound.
For those who are planning to shoot
・We may refuse to take pictures for purposes other than personal enjoyment (including commercial use and/or streaming via SNS).
Please contact our staff in advance.
For details on meal menus, reservations, cancellations, fees, etc., please visit our website.
https://www.toei-eigamura.com/charter-plan/