In addition to the "Tokyo Revengers" collaboration event, the winter period of the Studio Park will also see the "Kamen Rider Grand Assembly Battle" show, featuring the Legend Riders, and the popular "Kamen Rider Den-O", both as event and live stream!
From December 11th, a Christmas tree will appear at the "Evangelion Kyoto Base" in the Studio Park, which will also see a collaborative winter event with the popular TV animated show "Tokyo Revengers", starting from December 25th. We will also hold the annual hero show "Kamen Rider Grand Assembly Battle", aimed to be a Studio Park event full of performances, for customers to better enjoy their visit.
Eva's Christmas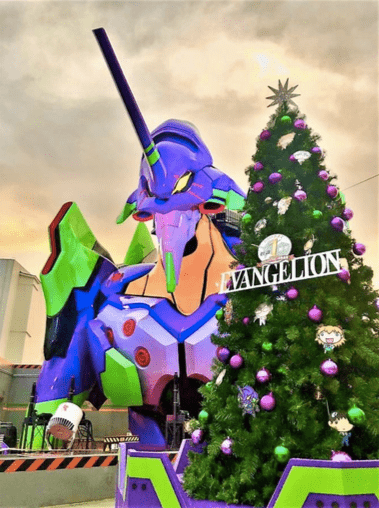 A huge Christmas tree will appear at the "Evangelion Kyoto Base"! The event will be held from December 11th (Sat.) to December 26th (Sun.). Let's take lots of pictures with this unique and seasonal tree, only visible for a short period of time! In addition, on weekends, we will hold live performances of classic masterpieces used for Evangelion's plays.
Performance dates: December 11 (Sat.) / 12 (Sun.) / 18 (Sat.) / 19 (Sun.) / 24 (Fri.) / 25 (Sat.) / 26 (Sun.)
Performance time: From 16:00 (about 20 minutes)
Evangelion Kyoto Base HP
https://www.toei- eigamura.com/eva/
Kamen Rider Large Group Battle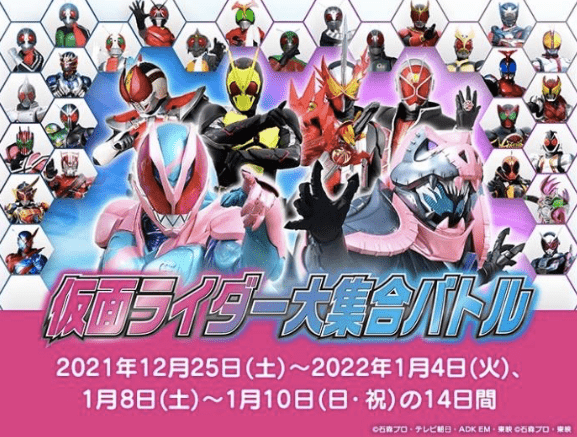 A super-powerful motorcycle performance will be performed during the annual "Large Assembly Battle" event! Different riders will join in as guests for each performance. It is an event that will surely excite not only children, but also fathers and mothers.
Dates: from December 25, 2021 (Sat.) to January 4, 2022 (Tue.), from January 8 (Sat.) to January 10 (Mon. / holiday), for a total of 14 days.
Performance times: ①10:45 ②12:30 ③14:15 ④15:50
Venue: 3rd floor of the Padios multipurpose Hall
Advance ticket sales: from December 1, 2021 (Wed.) 10:00 to January 10, 2022 (Mon. / holiday)
Price: There are four types of tickets: reserved-seat tickets only; premium tickets with seats on the front rows with the possibility of taking photos together with the Kamen Riders; set tickets usable both for the show and for entering the Studio Park; and great-value tickets that include both the entrance to the Studio Park and the premium tickets benefits. Please check the ticket information page for details.
Kamen Rider large set battle sales information
https://l-tike.com/leisure/mevent/?mid=163397
Kamen Rider Den-O Imagine Suspense Theater "U Tragedy"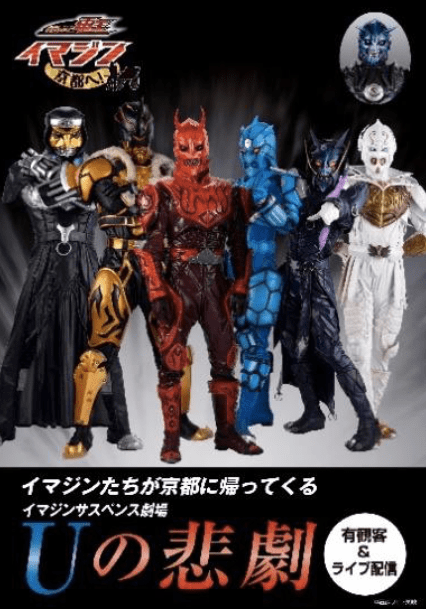 We offer you the long-awaited re-enactment of "U's Tragedy"! We have also decided to deliver the Senshuraku performance! Voice actors from "Imagine" will gather and perform as a distribution-only content. A commentary video will also see a limited release. Please take the chance to see this event, which can be enjoyed online as well. The everyday-life slapstick unfolded on stage by the Imagine's actors surely will be a must for all their fans.
★ Performance information
Dates: January 16 (Sun.) / 22 (Sat.) / 23 (Sun.), 2022
Times: ①11:00 ②14:00 ③17:00
Venue: 3rd floor of the Padios multipurpose Hall
Fee: 3,500JPY (an ulterior entrance fee to the Studio Park will be required)
For every parent, a maximum of one child up to 3 years of age will be allowed to watch the show while sitting on the parent's lap.
★ Live streaming commentary information
Cast: Toshihiko Seki, Koji Yusa, Masaki Terasoma, Kenichi Suzumura
Date: January 23, 2022 (Sun.) from 17:00
Viewing fee: 2,000JPY

Ticket sales page
https://l-tike.com/leisure/mevent/?mid=163397
Live commentary ticket sales
Sale period: from December 11 (Sat.), 2021 at 10:00 to January 25 (Tue.), 2022 at 16:59
[Streaming +] https://eplus.jp/u-no-higeki/
[LIVE STREAMING] https://l-tike.com/den-o-online/