We will hold a special event at the Studio Park for you to enjoy the coming of the New Year. In 2022, a giant commemorative panel representing illustrations of various Evangelion characters holding the symbol of the new year (the Tiger) will appear at the "Evangelion Kyoto Base", as well as the sale of new limited-edition goods.
The new year will see the arrival of a gorgeous Oiran lady who will liven up the mood, as well as old-fashioned games, such as Japanese battledore or spinning tops. We will hold many events to be enjoyed by families, and welcome you with nostalgic sceneries of old Japan during New Year celebrations, to make you feel like you have traveled back in time.
Evangelion Zodiac commemorative panel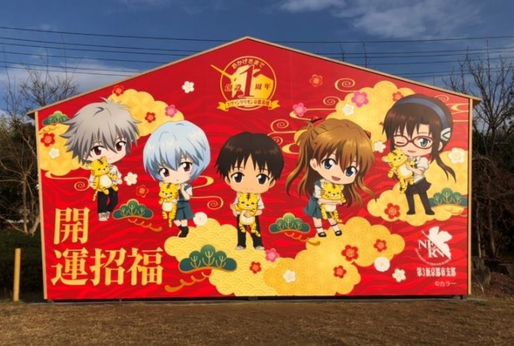 A huge commemorative panel will appear at "Evangelion Kyoto Base" from December 18th, this year as well! Take a picture with this large panel, with a height of about 3m and a width of about 5m! (*It will be a permanent exhibit).
We will also start selling new goods using limited-edition motifs to recall the new year zodiac sign for 2022: the "Tiger".
Take a picture! Oiran commemorative photos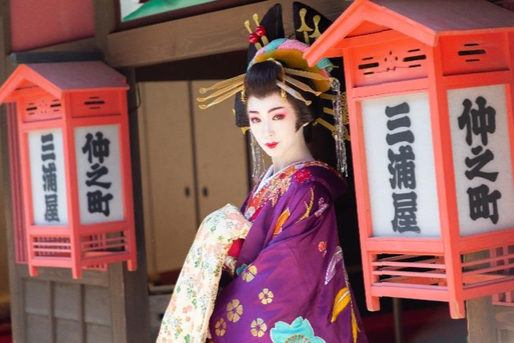 We will hold a commemorative Oiran photo session over the period of 3 days along the newly rebuilt Yoshihara street and its beautiful glittering flowers, in Edo Town. Enjoy this extraordinary experience, where you will be able to interact with our gorgeous Oiran lady.
Holding period: limited to 3 days, from Jan. 1st (holiday) to Jan. 3rd (Mon.), 2022
Times: ①12:00 ②14:15
Location: Yoshihara Street
New Year's present campaign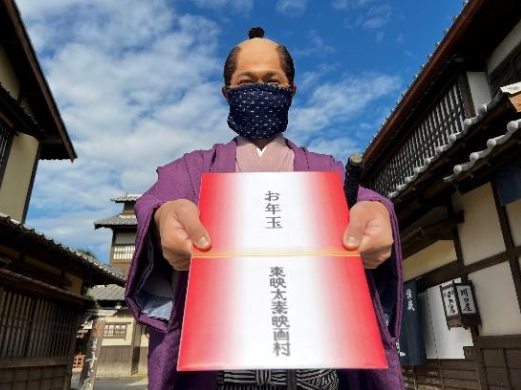 The first 200 people (children only) to join, will receive a New Year's gift bag directly from a Toei actor, dressed up as a historical movie character. You will win a ticket to be used in the Studio Park. Look forward to what you can get!
Participants: only children, from 0 years old to 6th grade students
Holding period: Jan. 1st (holiday) to Jan. 4th (Tue.), 2022
Distribution venue: near the entrance, on the 1st floor of the Padios area
Lion Celebration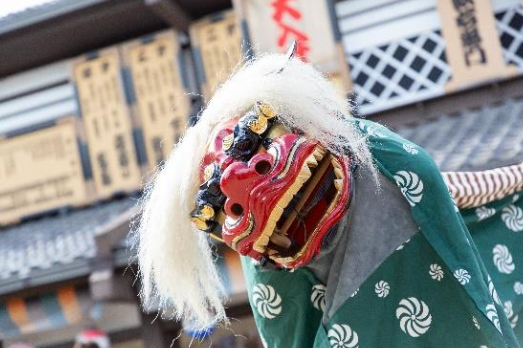 A dancing lion is coming to the Studio Park to liven up our lives for the year to come! The lion, traditionally associated with the new year celebrations, will go around the Studio Park as a joyful messenger, cheering up all of our visitors and preparing them for 2022, while performing its dance.

Holding period: Jan. 1st (holiday) to Jan. 3rd (Mon.), 2022
Times: ①10:15 ②13:30 ③15:15
Location: all around the Park (Meiji-street - Edo Town)
Nostalgic old-fashioned games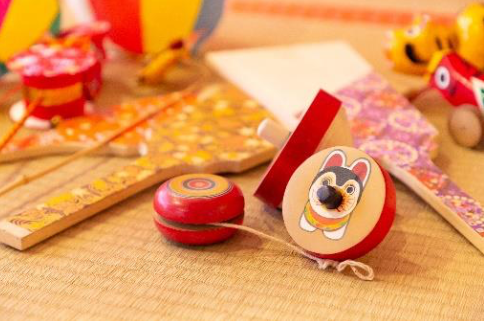 In the Studio Park you will be able to experience old-fashioned New Year's games. In addition to battledore and spinning tops, not only children, but adults as well will feel nostalgic and enjoy them with their families.

Period: from Dec. 25th, 2021 (Sat.) to Jan. 10th, 2022 (Mon./holiday)
Location: in front of Nakamura theater
Free rental of Shinsengumi Happi coats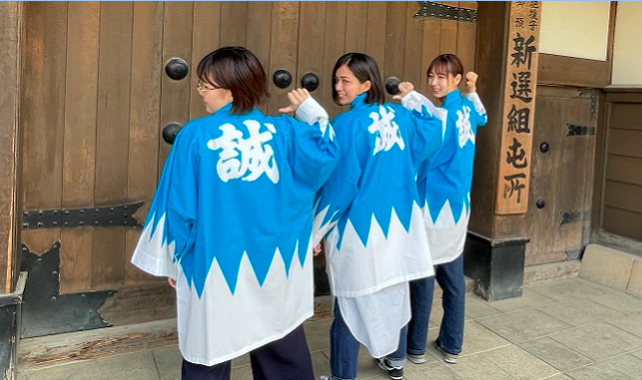 We will rent out old-fashioned happi coats, very much used in vintage dramas, for you to wear, for free! We made sure everyone would enjoy this, as we have sizes for both adults and children! If you take a picture in the town of Edo, you will surely feel like a Shinsengumi member. *The number is limited.
Period: from Dec. 25th, 2021 (Sat.) to Jan. 31st, 2021 (Mon.)
Venue: Museum of historical drama