The first theme park to implement this!
The entire facility is coated with an antibacterial substance to shut out virus and bacteria.
TOEI Kyoto Studio Park has been taking various measures to prevent virus infections so guests can safely enjoy their visit. This time, the details of the prevention will be introduced.
[Prevention of infections implemented on the premises]
TOEI Kyoto Studio Park is going to coat the entire facility with a highly effective antibacterial substance in order to protect guests and staff members from the virus. The coating is expected to keep its effectiveness for about a year. As regards to the areas that will be coated, from about 20,000k㎡ of the entire premises of the Studio Park to about 1,300 items including costumes for the Transformation Experience and actors' kimonos will be coated. TOEI Kyoto Studio Park is the first theme park to attempt this on such a large scale and hence it is attracting attention as a new direction which recreational facilities will be headed after the corona-virus pandemic.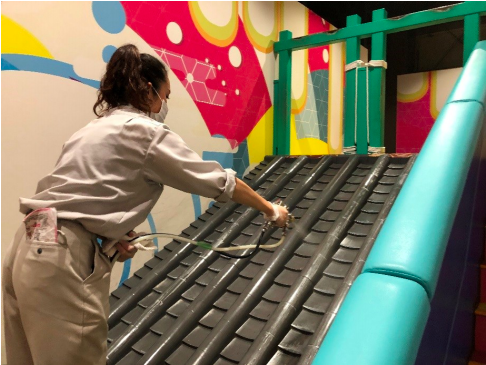 To prevent the further spread of COVID-2019 infections, and with the safety of guests, actors, and staff members being considered, the following events will be closed until further notice. Additionally, some sections will also be closed, thank you for your understanding.
"Terakoya" – a Fun Place to Study (Closed until further notice)
Guided Studio Park Tour with Our Actors (Closed until further notice)
Samurai course ~Sword Beginner's Class~ (Closed until further notice)
Stamp Rally (Closed until further notice)
Comic foreground (Closed until further notice)