Hello.
Here at the Toei Kyoto Studio Park, the autumn sun is shining through beautifully colorful autumn leaves. Let me introduce to you limited time foods you can enjoy during this season.
I recommend a menu item that is near the Castle Gate at a shop named Hanamichaya.
The picture below is Hanamichaya. Let's enter the shop!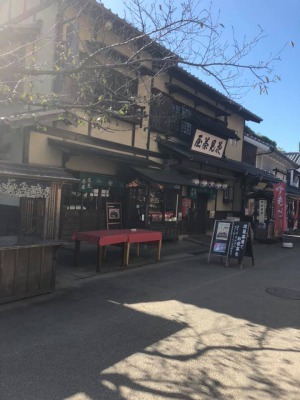 Hanamichaya is on the left side if you are walking from the Castle Gate.
Amongst the many options at this shop, I asked the staff which menu items they recommended.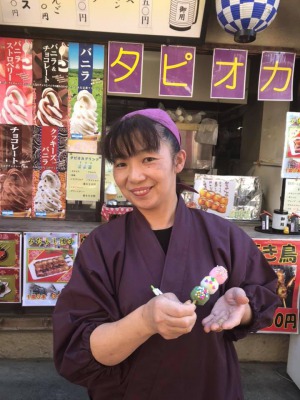 This kind staff recommended Toiro-dango sold for 200 yen. It's so cute with colorful toppings. This treat is very photogenic.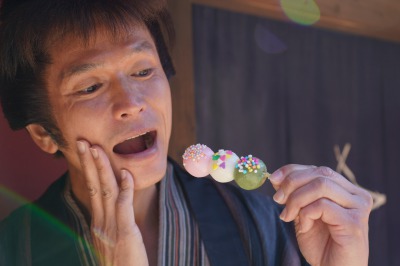 I ate this Toiro-dango with actor Kosei. He is a boy who loves sweets.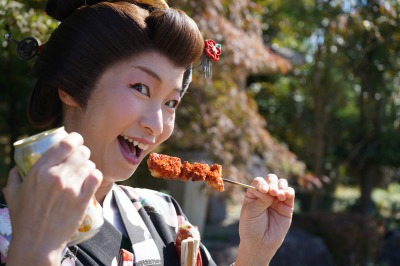 My recommendation is the Kuno-yakitori sold for 300 yen. Ichimi (spicy hot pepper seasoning) that completely replicates autumn leaves. I ate this with Izumi Yoshimura, a familiar actress who often guides the Guided Park Tour. The meat was plentiful, and there was nice fat on the meat. I thought this would be nice to snack on with beer.
As you can see, there are delicious foods good for Instagram in Toei Kyoto Studio Park.

Please come to Toei Kyoto Studio Park and enjoy them.